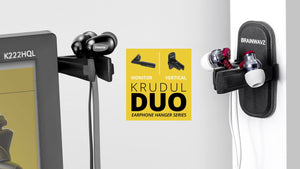 Krudul Duo Earphone Hanger Now in Canada!
Now in Canada you can pick up the Krudul Duo Eaphone Hanger.  Protect your precious earphones and  be free of tangled cords forever!!!!!
The Krudul Duo is an earphone management solution moulded from aluminium and made in two individual parts; Krudul Monitor and Krudul Vertical.
---